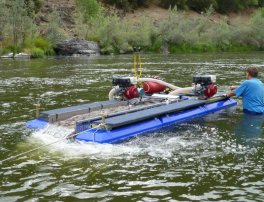 Productivity by pulp: 150 - 250 m³ per hour.
Productivity by soil: up to 20-40 m / cubic meters per hour.
Dimensions in working position: maximum length - 7 m, maximum width - 2.6 m, maximum height. The draft of the dredger is 0.3 m.
The dredger consists of:
motor pumps;
suction pipes;
plastic pontoons (quantity 4 pcs)
Dredger assembly weight: 690 kg.
Suction pipe length - 7 m, diameter 200 mm.
Motor pump Honda WT (Japan), the number of two pumps:
productivity 100 m / cubic meter per hour for water
engine power 11 HP
suction depth 8 m
manual start
head 35 m
The dredger of this modification lifts the soil from the depth of the reservoir 0.7 - 7 m.
The dredger is equipped with 4 frames. Flushing chute 3 m long. The suction pipe is raised and lowered using a hand winch Anchor - 2 pcs. Piles for fixing the dredger while working on the water.
Production time - from 1.5 months
A MORE DETAILED DESCRIPTION OF TECHNICAL CHARACTERISTICS YOU WILL RECEIVE AFTER CONTACTING WITH THE COMPANY'S SPECIALISTS OR FILLING IN THE QUESTIONNAIRE.