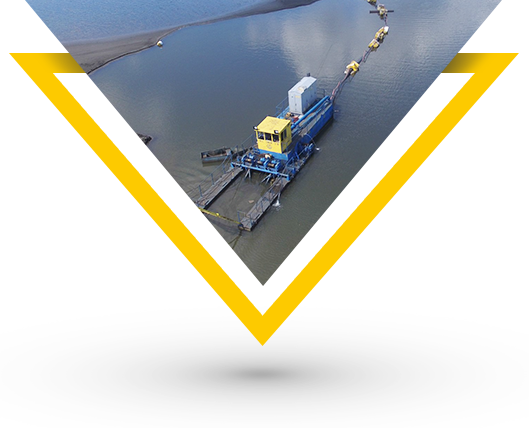 Kherson suction dredgers company "VVV-Spetstekhnika" was founded in 2006 and specializes in production of suction dredgers of HCC mark, agreed with Ukraine's Register of Shipping projects, improving and modernizing the dredgers of any brand.
The company has implemented a quality management system ISO 9001:2008 for the construction, improvement, modernization and repair of ships, hull structures, ship equipment and dredgers.
Besides, the enterprise has a Certificate of compliance with the standards of the Shipping Register of Ukraine related to the realization of building, re-equipment, modernization and repair of the ships, hull structures, ship equipment.
OUR VISION

:

the creation of products that the most satisfying customer requirements for acceptable price.
During the activity VVV-SPETSTEKHNIKA supplied equipment to such countries as Russia, Belarus, Kazakhstan, Uzbekistan, Tajikistan, Nigeria, DR Congo, Rwanda, Sierra Leone, Cote d'Ivoire, France, England, Lithuania, Belgium, Turkey and other.
The specialists of the enterprise instruct the representatives of the enterprise - the customer - to work on dredgers in order to properly operate the equipment, comply with technological standards and achieve the maximum effect in the development of soil.
The enterprise manufactures dredgers according to its own projects. In this case, it is possible to develop a special project and manufacture equipment, taking into account the industry of the enterprise - the customer and / or the field of application. Learn more about VVV-SPETSTEKHNIKA >>
Dredgers HCC have different productivity – from 15 m3/h to 3000 m3/h of the soil, depth of the development from 0,5 to 28 meters from water surface. Input / discharge system of dredgers from 6'/4' to 28'/24'. All model range of suction dredgers HCC allows to offer to our customers the most satisfying dredgers to their needs and objectives.

HCC dredgers have a collapsible design, so they can be delivered anywhere in the world by land or sea transport. In addition, HCC dredgers are economical in fuel consumption. Find out all the advantages of HCC dredgers >>
Quick links:
Catalog - Model range of HCC dredgers;
Photogallery and Videogallery - HCC dredgers in the production process, commissioning works, in the process of working with customers;
Questionnaire - fill it out so that we can calculate the most suitable dredger for your requirements. All fields must be filled;
We will be glad to have a long-term and mutually beneficial cooperation with you!