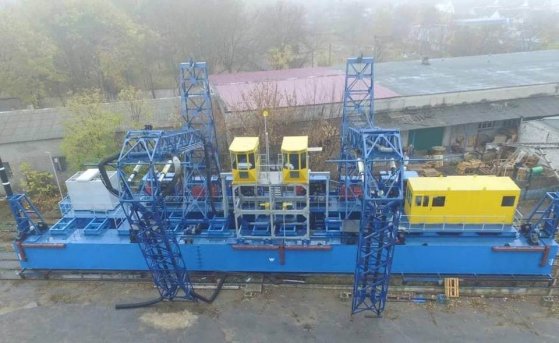 02.11.2021
The barge unloading dredger HCC GV 1600 is ready for shipment to the customer. This equipment is unique and has no analogues in Ukraine, because it is designed for unloading flat-bottomed barges up to 15 m wide and hold depth up to 6 m. The BUD HCC GV 1600 was developed by our specialists in accordance with the Shipping Register of Ukraine standards.
The overall dimensions of the equipment are quite impressive: length - 40 m, height in working position - 16 m, width - 8.5 m. Total weight - 135 tons. Dredger is equipped with four engines and four vortex-type submersible pumps, two of which are for water supply, and two for soil intake. The total installed capacity is 840 kW.
Pulp productivity is 1600-1800 m3 per hour. By the ground this characteristic will be almost 450 tons of sand per hour, which can be unloaded from a flat-bottomed barge and transported through a pipeline at a distance of up to 300 m. Unlike the use of a grab crane, this will significantly reduce the unloading time.
For movement the hydraulic unloading dredger is equipped with a pile drive and 8 winches. A team of 6 people will participate in the work process: 2 - to carry out management and control from the felling and 4 service workers.
At the end of the year, the equipment was delivered to the customer. Commissioning works have been postponed until the weather conditions improve.