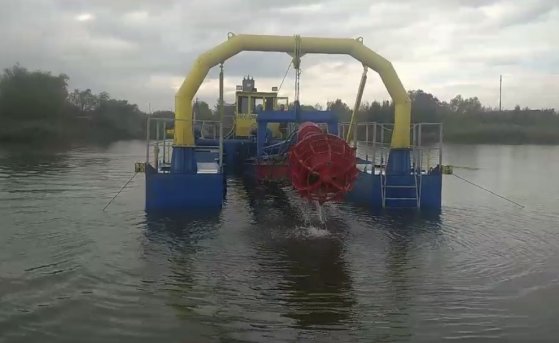 12.10.2020
Commissioning works of the dredger mark HCC 1200/60-F-GR manufactured by VVV-SPETSTEKHNIKA for Burshtyn TPP, Ukraine. This dredger is equipped with a cutter and hydraulic washing-out (jet).
Dredger's capacity 1200 cubic meters per hour. Overall length is 26 m. The maximum development depth is 15 m.
"A dredger at the Burshtyn reservoir will clean the reservoir from silt. With a powerful soil pump it will pull the sediments from the bottom. To do this, it will loosen the soil with a special cutter and draw it in with a stream of water. Then, through the pump, under pressure, the mass will enter the pressure pipeline. Passing through the slurry pipeline, sludge from the bottom of the reservoir will pour out into a specially designated place, where it will dry out and turn into a layer of soil, "said Lyubomir Dmyterko, head of the mechanic service at DTEK Burshtyn TPP (citation source https://cfts.org.ua).