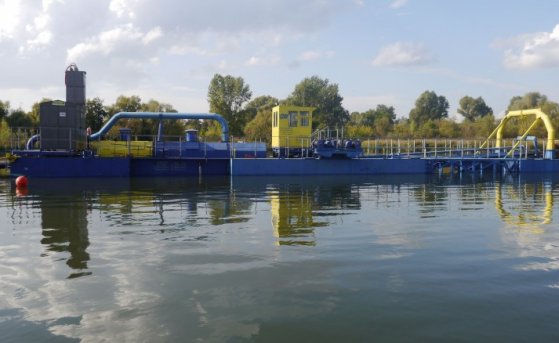 17.11.2020
A 26-meter dredger with a capacity of 1200 cubic meters will operate at the DTEK Burshtyn TPP reservoir.
Erosion of the banks, the application of sand and clay by groundwater, bottom sediments and silt are a real disaster for water bodies. All these negative factors cause siltation, the spread of harmful algae, and an increase in water temperature. Such processes are especially harmful to fish."
"From the fact that the water is gradually becoming muddy- its oxygenation from natural plant sources decreases. This promotes the spread of harmful vegetation such as blue-green algae. All of that can cause the death of all living things in the reservoir. This problem is relevant not only for our reservoir, but also for many lakes, ponds and rivers, "comments Petr Savka, Head of the Ecology Department of DTEK Burshtyn TPP.
"The dredger, which has recently been put into operation will help prevent siltation of the reservoir. This is a technical vessel equipped with a powerful pump to clean the soil from silt under water," the message says.
Was noted, that a team of power engineers who have been trained to work with the dredger have already assembled it and are testing the equipment.
"A dredger at the Burshtyn reservoir will clean the reservoir from silt. It will pull the sediments from the bottom with a powerful soil pump. To do this, it will loosen the soil with a special cutter and draw it in with a stream of water. Then the mass will enter the pressure pipeline through the pump under pressure. After passing through the slurry pipeline from the bottom of the reservoir, sludge will pour out into a specially designated place. There it will dry up and turn into a layer of soil", said Lyubomir Dmyterko, head of the mechanic service at Burshtyn TPP, DTEK.
It is also reported that the pump of the dredger has a capacity of 1200 cubic meters. If we take into account that the Burshtyn reservoir has about 50 million cubic meters of water, then in five years of operation the dredger will be able to pass all the water through itself and completely clean the reservoir.
As a reminder, the CTS reported earlier that a dump barge, 5 dredgers and an amphibious excavator were involved in clearing the Yuzhny Bug River in Vinnitsa. The equipment was supposed to move more than 13 km along the river - and due to the cleaning of the bottom, the river should deepen by an average of 2 meters. "It takes 5-6 years to clear the entire water area of the river within Vinnitsa", said the mayor of Vinnitsa Sergei Morgunov.
Translated from the sources:
The Center of Transport Strategies (CTS): https://cfts.org.ua/
Energy Holding DTEK: https://dtek.com/