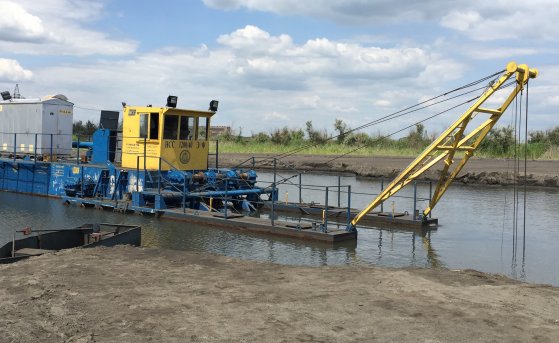 10.09.2015
"In February of this year, the Ordzhonikidze Ore Mining and Processing Plant solemnly opened a unique facility - a new dust and gas cleaning system for the Bogdanovskaya Concentrating and Agglomeration Plant. In addition to the technical characteristics, another fact was striking - this object was built in a little more than a year!
A feature of the new site is the introduction of dredgers into its technology with all the accessories - new and unique equipment, perhaps not record holders in size, but by their characteristics they are clearly calculated for the production volumes of the site. The equipment was made in Kherson at the "VVV –Spetstekhnika" enterprise tha has proven itself well at many enterprises. Two dredgers will take sludge directly from the sludge storage. The sludge lifted by the cutter of the dredgers, with the help of pumps, will be fed through a flexible pipe system to the dam, and then they will go directly to the site through the pipeline. Thus, to provide the site with raw materials, it will not be necessary to use excavators and road transport, as it is necessary to do it at UMS-1. The processed sludge will be dumped into the tailings of the third site. At the same time, the waste of the factory will be immediately involved in production and provide the plant with the necessary volumes of concentrate.
One of the serious tasks of May, on which the technical director V.I.Bondarets insisted, was precisely the beginning of the installation of dredgers. It was conducted by the representatives of the manufacturer's company, but the employees of the Ordzhonikidze Ore Mining and Processing Plant also took an active part in this process. Today, the dredgers are already on the water, the installation of flexible pipes continues, and other work is underway. This is a very difficult and painstaking work, so it is done very carefully, it is necessary to go through several stages, conduct test runs, etc. "
Source: Newspaper "For Marganets"
The use of dredgers for this type of work is very common. In July this year, the Marganetsky mining and processing plant purchased a dredger of the NSS 2000/63-E-GR brand, which was also produced by the Kherson enterprise "VVV-Spetstekhnika". The equipment will be used for the technological process of ore dressing.