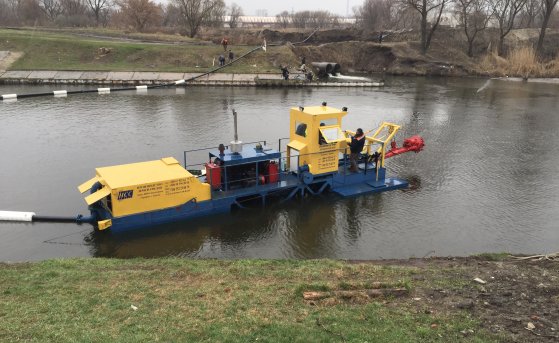 24.04.2016
A modern suction dredger for cleaning river beds was purchased at the expense of the city budget of Kharkov. Within a few months, utilities are planning to clean up 300 meters of the Kharkiv river bed.
"This year, city rivers are being cleared with a new suction dredger. It is several times more powerful than the old one and allows better and faster cleaning of rivers from silt deposits that have accumulated over the years," - experts say.
According to public utilities, such cleaning improves the hydrological properties of rivers and their sanitary and ecological condition. Now the Kharkiv River is being cleared of garbage, bulky items and sand and silt layers.
Vladimir Zalessky, Ch. Engineer KP "Complex for the operation of water lowering and storm water drainage facilities":
"The suction dredger extracts soil from the river bed and transports it through a slurry pipeline to the alluvial maps. After that, the solid sediment settles on the alluvial maps, the clarified water gets back into the Kharkov River. After this soil is all dehydrated, it will be disposed of to the solid waste landfill."
Also, Vladimir Zalessky said that the repair of the Zhuravlevskaya dam is nearing completion. Its reconstruction is scheduled to be completed this year. Now there are works on concreting the coastal part.
"The work on the reconstruction of the Zhuravlevskaya dam is being continued, the bulk of the work has already been completed, now work is underway to strengthen, concreting the slopes of the banks of the downstream, then work will be done to strengthen the slopes of the upstream."
At the time of cleaning the river beds, the water is drained, but by the first of May, the reservoirs of Kharkov will be filled again.