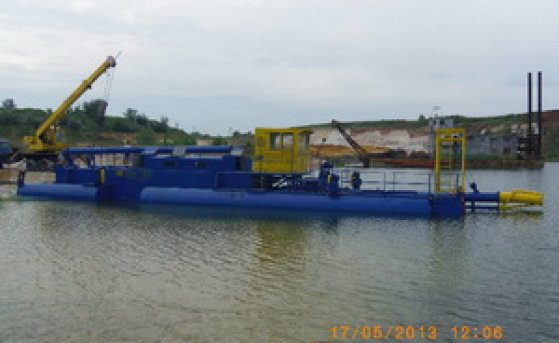 24.06.2013
PJSC Krasnopolyansk Sand Quarry purchased a new dredger from VVV-Spetstechnika to increase production.
Krasnopolyansk Sand Quarry is located in the Donetsk region, Velikonovoselkovsky district, Krasnaya Polyana village. The main activity is the extraction and sale of mixed-grained quartz sand.
The quarry is in the sphere of interests of the Astor group of companies, which unites modern enterprises with a high technological level of production of ready-mixed concrete, mortar, precast concrete, crushed granite, a wide range of construction services, as well as with a high quality management organization, confirmed by the ISO 9001: 2000 IDT certificate. This company is known to the construction market as one of the best suppliers of construction materials and mixtures in Ukraine since 2004.
The extraction of sand in the quarry is carried out by hydromechanized method. Previously, the PrJSC owned the ZGM 350-50L dredger, which, due to wear, provided the company's production capacity of 350 thousand tons annually. In order to reach a higher level of sand production, as well as to process it by fractions, in May 2013, a new dredger of the NCC 2000/63-GR-E brand was purchased from the Kherson dredger plant "VVV-Spetstekhnika". This dredger is equipped with hydraulic washing with increased power (200 kW, supply of 400 cubic meters per hour of water at a head of 150 m). The new equipment will triple the productivity of the quarry.
The quarry is the source of the best sands in the Donetsk region for concrete mixes in terms of composition and types of fractions.
Source: http://glavred.info , http://ru.tsn.ua